Lions and poachers and traps, oh my! In the gruesome and satisfying survival thriller "Beast," Idris Elba plays a grieving widower who drags his two teenage daughters to a South African game reserve, embarking on an emotional journey that turns into a nightmarish showdown with Mother Nature. Jean-Luc Godard said that all you need to make a movie is a girl and a gun; this one has two girls and several guns, though one only fires not too effective tranquilizer darts. The real weapon of the film is a very tall, very angry, and deftly computer-generated king of the jungle who happens to have a major bone to pick (or crush) with the human race.
The animosity is more than justified, considering the ruined state of the world in general and the ruthless poachers who have hunted these lions in particular. A few of these poachers meet a wickedly deserved end in the prologue, a tense nighttime setting that establishes the stakes between man and nature and, no less important, a cohesive and cohesive visual scheme. Much of the mayhem in "Beast" is staged in long, serpentine tracking shots that keep pace with the characters as they attempt to sense, evade, and flee from a predator that could always be lunges away. As his camera roams the rugged terrain in precisely choreographed movements, director Baltasar Kormákur (in collaboration with cinematographer Philippe Rousselot) achieves a physical grounding that makes even a digitally engineered predator seem palpably real.
This grounding also anchors the predictable, hokey so simple and refreshing narrative preliminaries featured in Ryan Engle's screenplay (based on a story by Jaime Primak Sullivan). Nate Samuels (Elba) is a doctor, which you can bet will come in handy. He and his daughters – moody, photography-loving Mare (Iyana Halley) and Norah (Leah Jeffries) – visit South Africa, the homeland of their recently deceased wife and mother. (The film was shot on location in the country's Northern Cape province.) They're on the mend, or so the idea; family friction continues to creep in, largely rooted in Nate's specific failures as husband and father.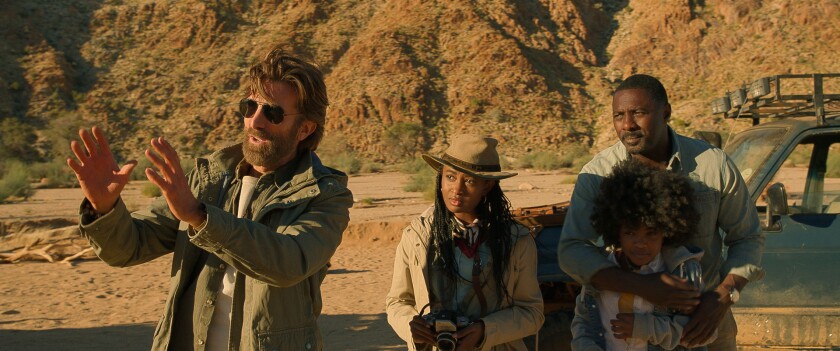 Nate's longtime friend Martin (the invaluable Sharlto Copley, of "District 9"). Part game warden and part wildlife whisperer, Martin is on hand to play safari guide and whisper ominous warnings about 'the law of the jungle', even as he demonstrates firsthand how lions locals are harmless and cuddly. You can't blame them for the graphically mutilated human corpses that suddenly show up in a nearby village. It would be the work of a much bigger and meaner lion that soon roars into the frame, trapping the group deep in the South African bush with only a stuck jeep for shelter. There's a particularly monstrous, almost mutant quality to this black-maned beast, which looks a bit like Aslan of the deador maybe Scar's "The Lion King" after a cocktail of steroids and bath salts.
It sounds ridiculous, but it turns out to be just the right amount of ridiculousness for this nifty, stripped-back late summer diversion. Kormákur has been working towards that B-movie sweet spot for some time. In a career that has zigzagged between his native Iceland and Hollywood, he's become a reliable disaster performer, capsizing a boat in "The Deep," stranding two lovers at sea in "Adrift" and following mountaineers on a snowy death march Everest. The human body in extremis is its comfort zone, and here, with leaping paws, snapping jaws, and quietly bloody wounds, it supports – and, above all, modulates – the threat of serious bodily harm.
It helps that the central foursome, especially Halley and Jeffries, are as likable as they are, which helps tone down and even sell the absurdity of those moments that will have you screaming "Stay in the car, you idiot!" and "Roll it up [your choice of expletive] the window!" Elba, a suave and dependable man of action, shrewdly downplays here as an awkward father who, aside from the brawny frame and medical expertise, is no match for Pridezilla. That remains true even as things race to an inevitable climax, a ridiculous but pleasant reminder that just because you saw a killer CGI lion doesn't mean you saw them mauling.
'The beast'
Evaluation: R, for violent content, bloody images and some language
Operating time: 1 hour 33 mins
Playing: Starts August 19 in general release
Source link

Denial of responsibility! newsnaveen.com is an automatic aggregator around the global media. All the content are available free on Internet. We have just arranged it in one platform for educational purpose only. In each content, the hyperlink to the primary source is specified. All trademarks belong to their rightful owners, all materials to their authors. If you are the owner of the content and do not want us to publish your materials on our website, please contact us by email – admin@newsnaveen.com. The content will be deleted within 24 hours.